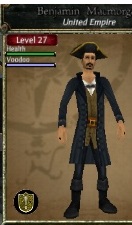 The Co. Empire is an
EITC Guild. Actually the first to exist. It was founded by Benjamin MacMorgan some time ago.
Many guilds copied the Co. Empire's Name, wanting other guilds to believe they were the guild.
The Co GM was Captain Andrew. The head Admiral was Admeral Quiz. Many wonder why they crumbled. But the reason was that they had at least 25 spies, and all their Spy-Protection Systems did'nt work.
Benjamin MacMorgan deleted and crushed his own Empire, but then made a new empire.... the UNITED EMPIRE! he claimed to make his EITC ways vanish, but..... they didn't.... he simply claimed to be pirate, soon before becoming EITC again!