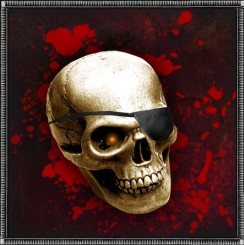 The Thirsty Souls was founded by Estela Heartlight May 5th 2010. They gather a large number of exceptional pirates that are not discriminated by their levels or the color of their names.
Thirsty Souls attempt to help each other and to develop a friendly atmosphere. They also like to do activities together, for example to defeat the Dark Hart, to recover the Black Pearl, to go to PVP battles and to fight against Jolly Roger, all this working as a team; where everyone contributes to get the victory against the evil forces around the Caribbean.

Site: http://www.thirstysoulsguild.com
Youtube Channel: http://www.youtube.com/user/ThirstySoulsGuild

Organization
Common ranks
Special ranks
Navy
Elite Army
Troop

Guild Bases
The catacombs
Devil's anvil
Islands
Padres del fuengo
Rumrunner's

Servers
"G" Servers

Special events
Monthly ship race
PVP after invasion
Guild foundation aniversary
Best of the guild awards

Contests
Screenshots
New uniforms

Enemies
United empire
EITC guilds.

Rules
Don't fight in guild chat
Don't yell in guild chat